Non-routine lifting operations are often complex jobs. Complex because the load is oddly shaped or close to the lifting capacity of the crane. Or complex because of the environmental circumstances, like lifting offshore or in hard-to-travel places.
Flare tip replacements are a good example of non-routine lifting operations in hard-to-reach areas. They are often performed in offshore environments or even on flare booms and FPSO's. For these types of lifting activities, modular lifting constructions, like the A-frame, are the answer.
Eager.one is a partner for contractors worldwide for non-routine lifting equipment. We have supported local contractors with our 25 years' experience in designing methods and supplying modular equipment for flare tip replacement.
Modular A-frame
Recently we have delivered a modular A-frame construction to Intaj Holdings Sdn Bhd, a supplier of flare tips in Malaysia. Over the years they have developed themselves to a full service contractor, including offshore installation in Malaysia. Intaj Holdings Sdn Bhd used the A-frame for a flare tip replacement at an offshore project in Malaysia.
The A-Frame is a modular construction and can be used on most flare structures. Therefore, there is no need for additional cranes or helicopters. All items will be manually lifted to the flare top platform, by means of a hand carried single pole.
Intaj Holdings Sdn Bhd has replaced the flare tip without any issues. The FTHS design was spot on, and the execution team did a very good job. The company was able to completely replace the flare tip in 3 days.
Take a look at some pictures of the work in Malaysia: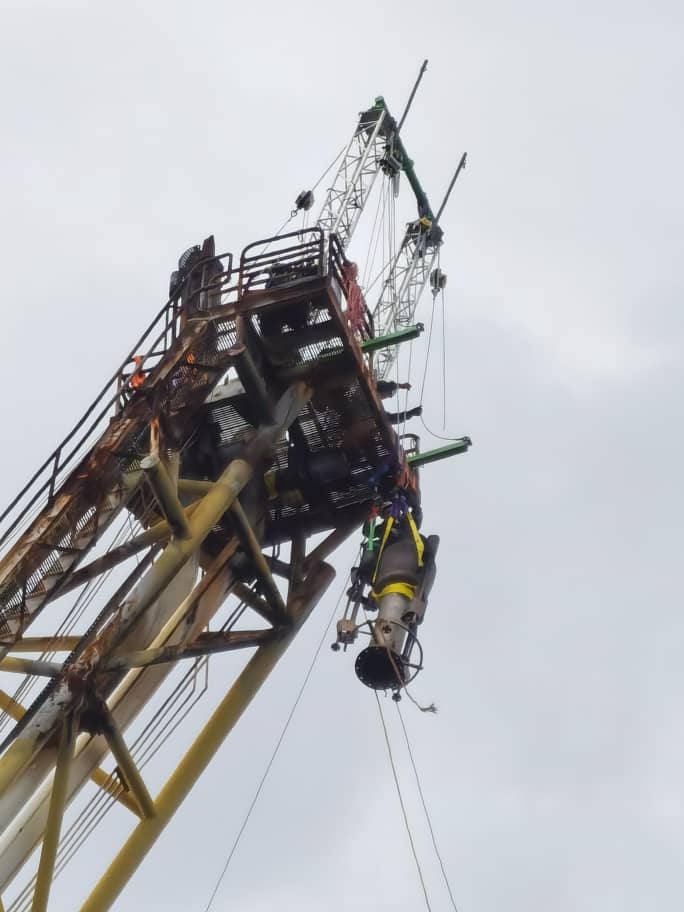 How can we support your flare tip business? Broaden your flare tip scope by executing the flare tip replacement by yourself or supported by our team. Contact us for more information.